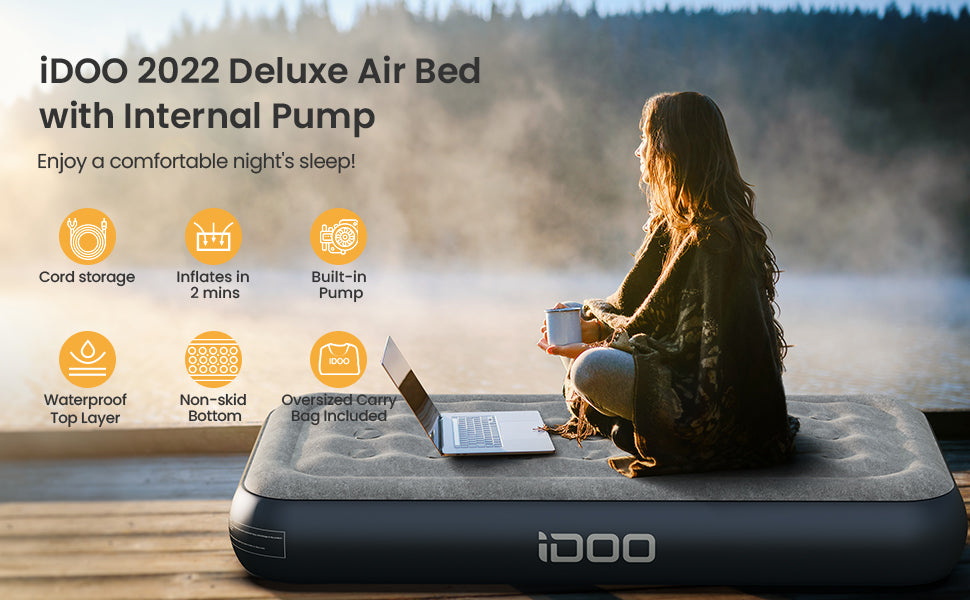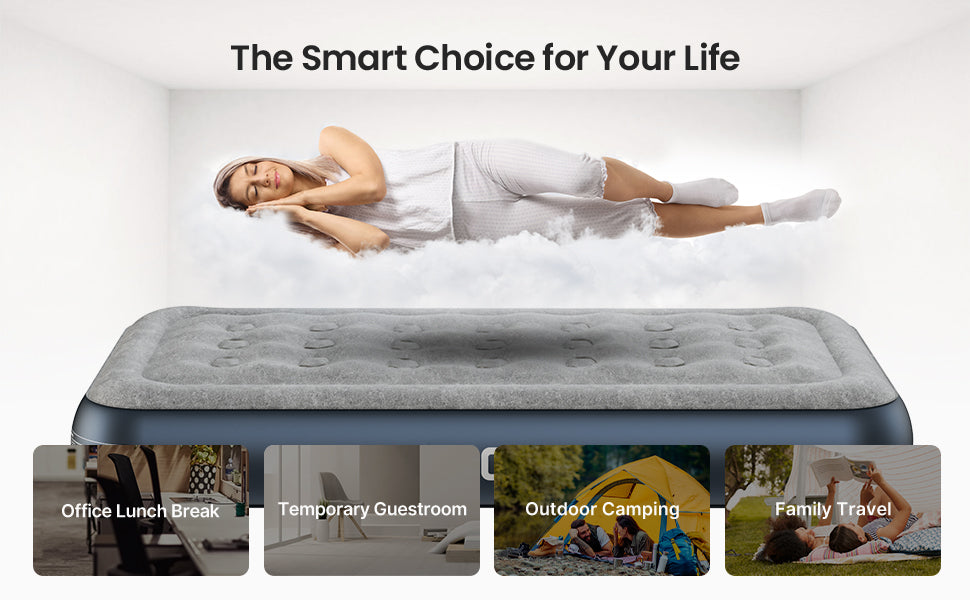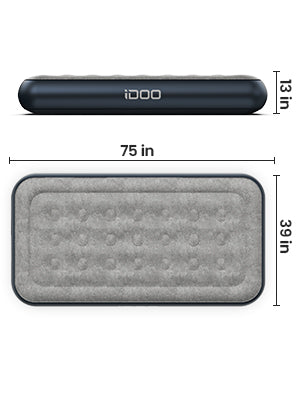 Twin Size 13" Air Mattress
---
- Fast 2-Minute Inflation
The built-in pump allows for quick and effortless inflation and deflation in just 2 minutes. Simply turn the dial and watch your mattress inflate or deflate without any hassle.

- Durable PVC Material
Made from ductile PVC material, our air mattress is designed to withstand the test of time. While it may lose some initial firmness due to PVC expansion, this is normal and not indicative of an air leak. Easily regain your desired firmness by adding air for 10-15 seconds using the built-in pump.

- Unique Patented Structure
The straight beams and 21 internal air coils provide unbeatable durability and support. The raised edge of the mattress ensures it stays flat and stable, preventing your fitted sheets from slipping. The waterproof flocked top layer and puncture-resistant eco-friendly PVC offer added comfort and reliability.


- Perfect Twin Size
With inflated dimensions of 75"x39"x13", our air mattress offers ample space for a comfortable night's rest. Its 550lb weight capacity ensures it can accommodate various body types and sizes.

- Easy Storage and Portability
For your convenience, a travel bag is included, making storage and transportation a breeze. When deflated, the mattress compresses to a compact size of only 14x12x5 inches and weighs a mere 10 lbs. Ideal for camping, travel, and guest beds. For outdoor use, set up a base between the floor and the mattress to prevent damage from rocks or roots. Tarps and blankets can be suitable for this purpose.

- Versatile Use
Whether you're an avid camper, a frequent traveler, or need an extra bed for guests, the ComfortCozy Twin Air Mattress is the perfect solution. Its practical design and portability make it suitable for various occasions.

- Immediate Rest and Relaxation
With ComfortCozy, you can enjoy immediate rest and relaxation, no matter where you are. The comfortable flocked top layer and sturdy construction ensure a rejuvenating sleep experience.

This product has no reviews yet.