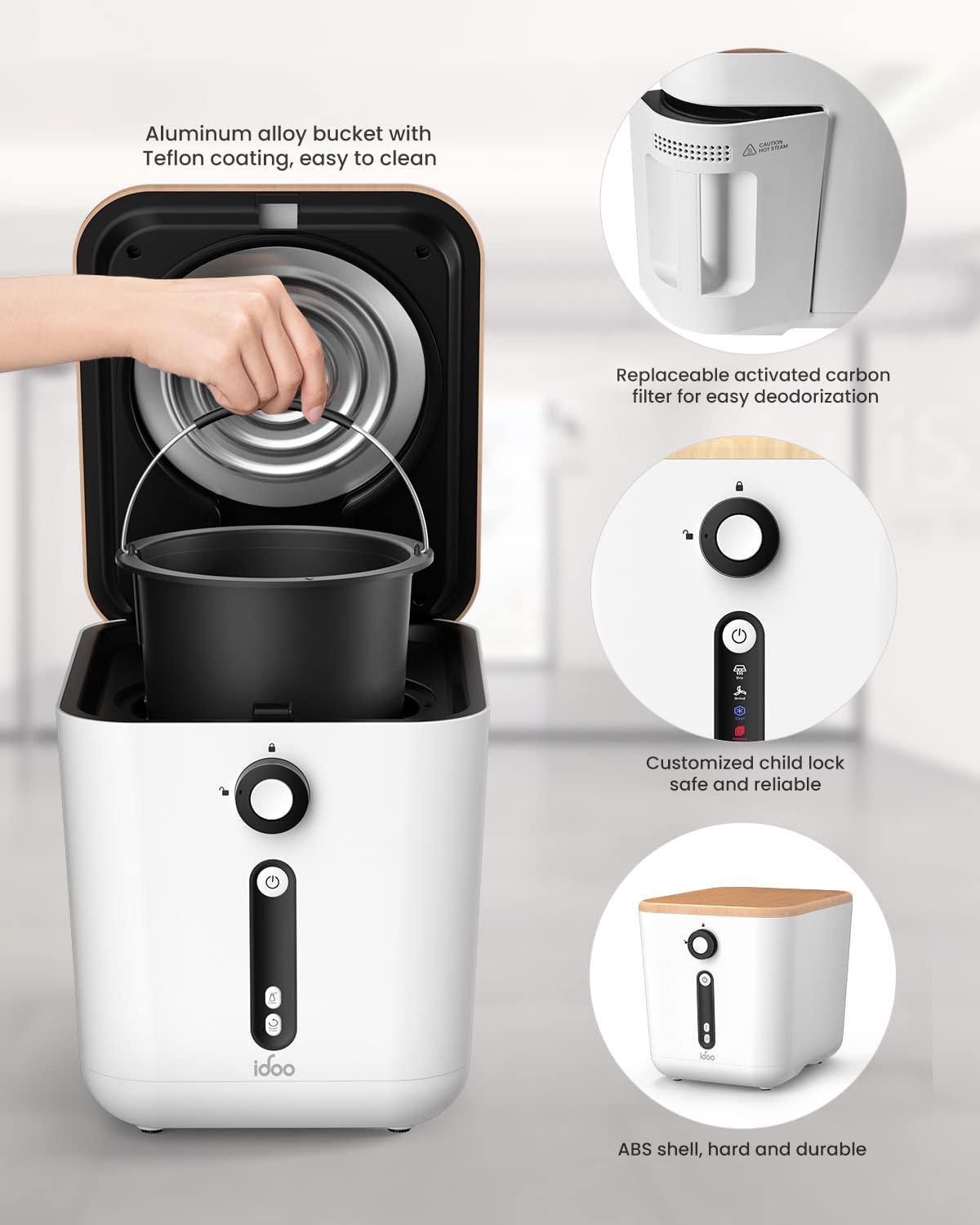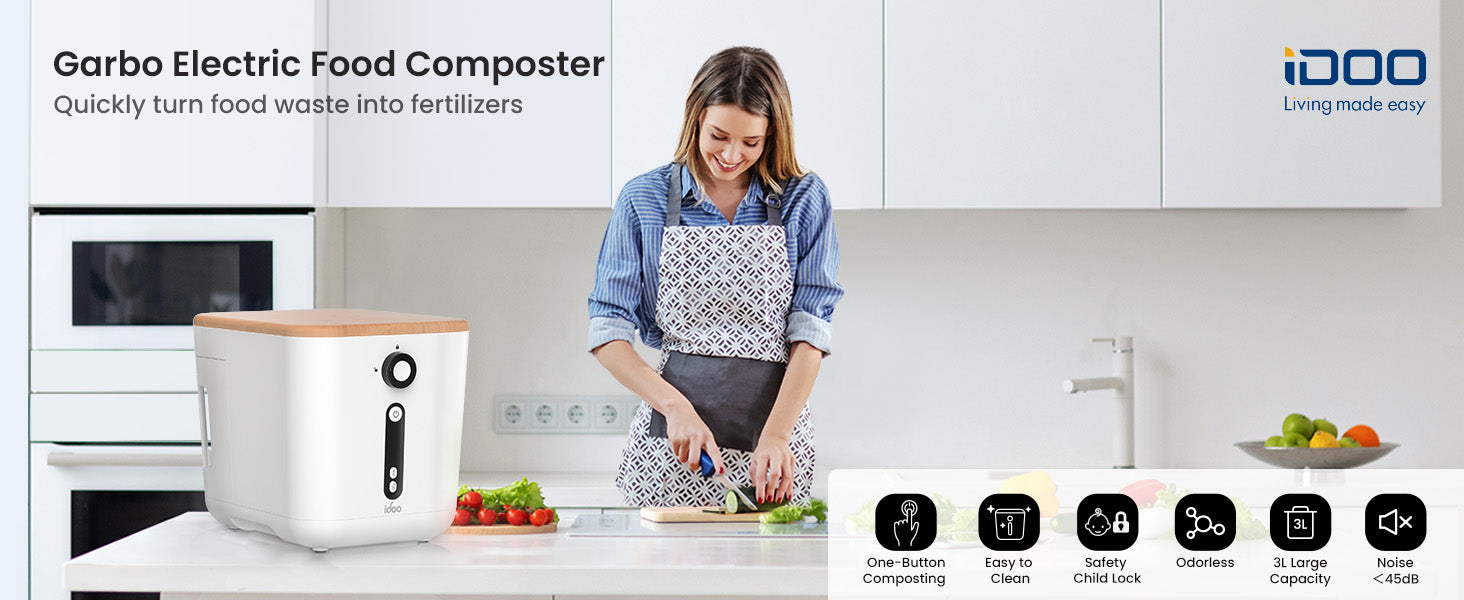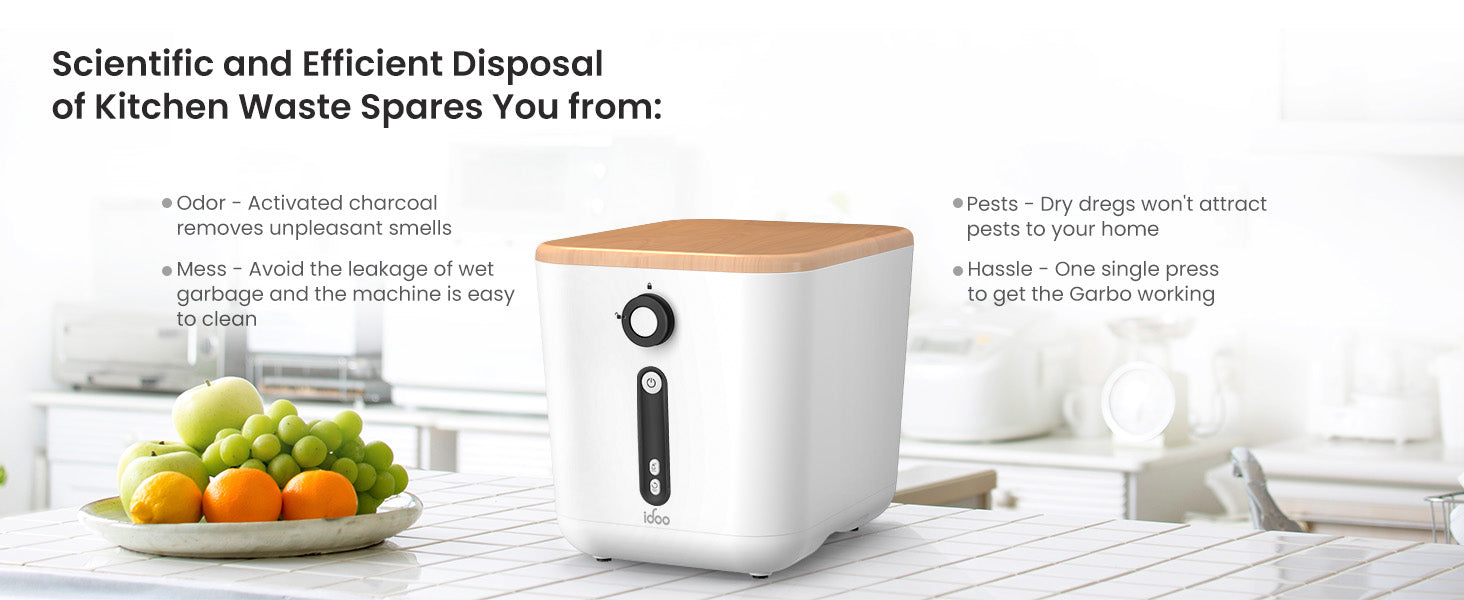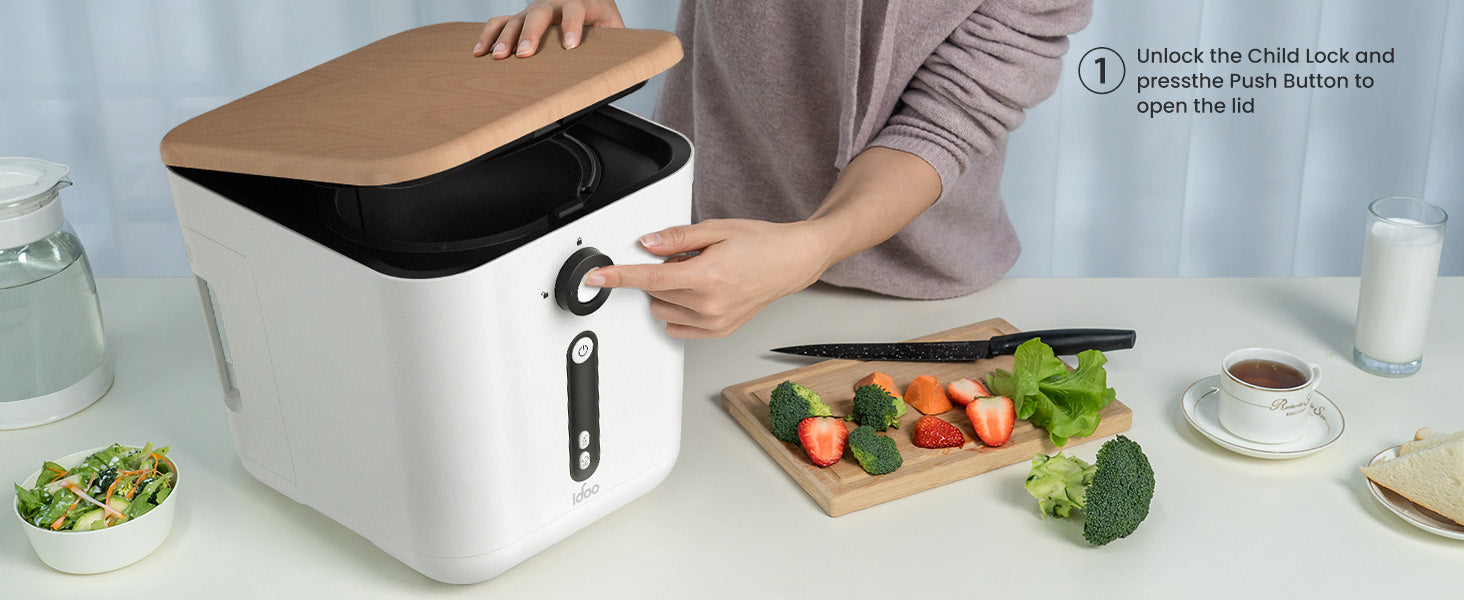 iDOO Smart Kitchen Composter
Your food waste is converted into a nutrient-rich fertilizer in just about 6 hours
---
Automatic Composting System
By employing high-temperature drying, milling, and cooling method, your food waste is converted into a nutrient-rich fertilizer in just about 6 hours. This one-button appliance can be used to provide nourishment to your garden or pot plants
90% Waste Reduction Volume
Helps reduce food waste by up to 90%. This kitchen composter can help you keep your leftovers from being discarded in dump, minimize your carbon footprint, and spares you disposal costs while revitalizing your garden
Child Lock for Safety
The kitchen waste composter features double safety locks designed for families with children. Also comes with an automatic on-off setting to avoid any safety hazards
Effortless Cleaning
The food composter machine equipped with an auto cleaning mode to ensure a quick and efficient inner bin clean-up and a filter replacement reminder feature to keep the food composter machine fresh
Quiet & Odorless
The countertop electric composter for kitchen silently operates with an activated charcoal filter to absorb odors that may lure pests or insects.
Say goodbye to the smell, dirt, and bugs, and hello to a greener way of living with a kitchen composter.
Home food waste can often lead to unpleasant smells, dirty surroundings, and unwanted pests.
However, by using an idoo kitchen composter, you can easily turn your waste into nutrient-rich dirt that can be used to fertilize your lawn, garden, or houseplants.
Child Lock for Safety
The kitchen waste composter features double safety locks designed for families with children. Also comes with an automatic on-off setting to avoid any safety hazards
Reduce food waste by up to 90%
Helps reduce food waste by up to 90%. This kitchen composter can help you keep your leftovers from being discarded in dump, minimize your carbon footprint, and spares you disposal costs while revitalizing your garden
Most of food waste are able to be converted by idoo Kitchen Composter
What can you compost with Garbo?
Yes
✔️ Nuts
✔️ Meat scraps
✔️ Fruit and vegetable scraps
✔️ Fruitpits ( avocado, peaches, mango, nectarines, recyclable paper )
✔️ Soft bones / shells ( fish / eggs,shrim )
✔️ starches ( bread,pasta,rice,potatoes,cereals,oats and other grain )
✔️ Dairy products ( cheese, yogurt, butter )
✔️ Coffee filters and grounds / Tea bags
✔️ Houseplants (plants and garden trimmings)
No
❌Hardbones( beef, lamb, pork)
❌ Cooking ols, grease, liquids
❌ Nappies and wet wipes
❌ Glass, metal, plastic
❌ Apricots
❌ Lined bags
❌ Cigarettes
❌ Foil wrap
❌ Styrofoam
❌ Pet Waste
❌ Alcohol
Kitchen Composter
Smaller
Faster due to heat and mixing
Easy to clean
No pests
Low odor
Traditional Composter
Larger
Slower due to natural decomposition
More maintenance
Attract pests
Produce odors
Operation Steps
Step 1
Step 2
Step 3
Step 4
Know more about Grabo...
Benefits of using compost from idoo Kitchen Composter